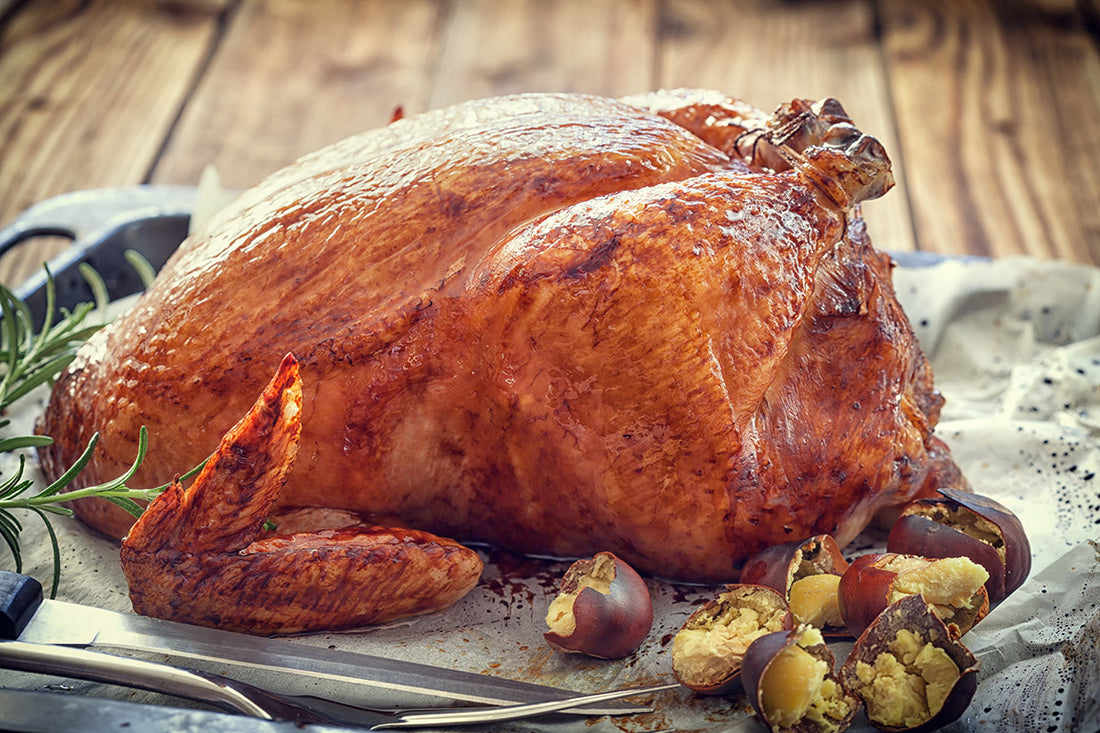 Herb Rubbed Smoked Turkey
Smoking is a delicious way to prepare a whole turkey. All you need is the turkey, seasonings, time, and patience.
PREP TIME

30 minutes

COOK TIME

6 hours

TOTAL TIME

6 hours 30 minutes
Ingredients
12 to 14 pound turkey, prepared as directed above.
2 TBS dried thyme
1 TBS powdered sage
2 tsps dried oregano
2 tsps paprika
2 tsps sea salt
1-1/2 tsps cracked black pepper
1 tsp dried rosemary
1 tsp onion or garlic powder (optional)
Zest of 1/2 an orange
1/4 cup extra virgin olive oil (EVOO)
1/2 cup apple cider
1/2 cup water
Apple or pecan wood chips 
Instructions
Preheat smoker to 225°F (107°C).
Mix dry herbs and spices in a small bowl. Rub 1/3 inside turkey cavity.
Combine EVOO and orange zest with remaining seasonings. Rub turkey exterior.
Add water, apple cider (half-filled) in smoker's pan. Place drip pan above. Fill side tray with wood chips.
Tuck wing tips, position turkey on middle rack. Smoke 30-40 mins per pound until internal temp reaches 165°F (74°C).
Check hourly for smoke, add wood chips if needed. Monitor internal temp every 45 mins after 3 hours.
Rest cooked turkey 20 mins to 2 hours before carving. 
Nutrition Information:
| | |
| --- | --- |
| YIELD: 16 | SERVING SIZE: 1 |
Amount Per Serving:
CALORIES: 806 TOTAL FAT: 34g SATURATED FAT: 9g TRANS FAT: 0g
UNSATURATED FAT: 22g CHOLESTEROL: 433mg SODIUM: 710mg CARBOHYDRATES: 5g FIBER: 1g SUGAR: 2g PROTEIN: 114g