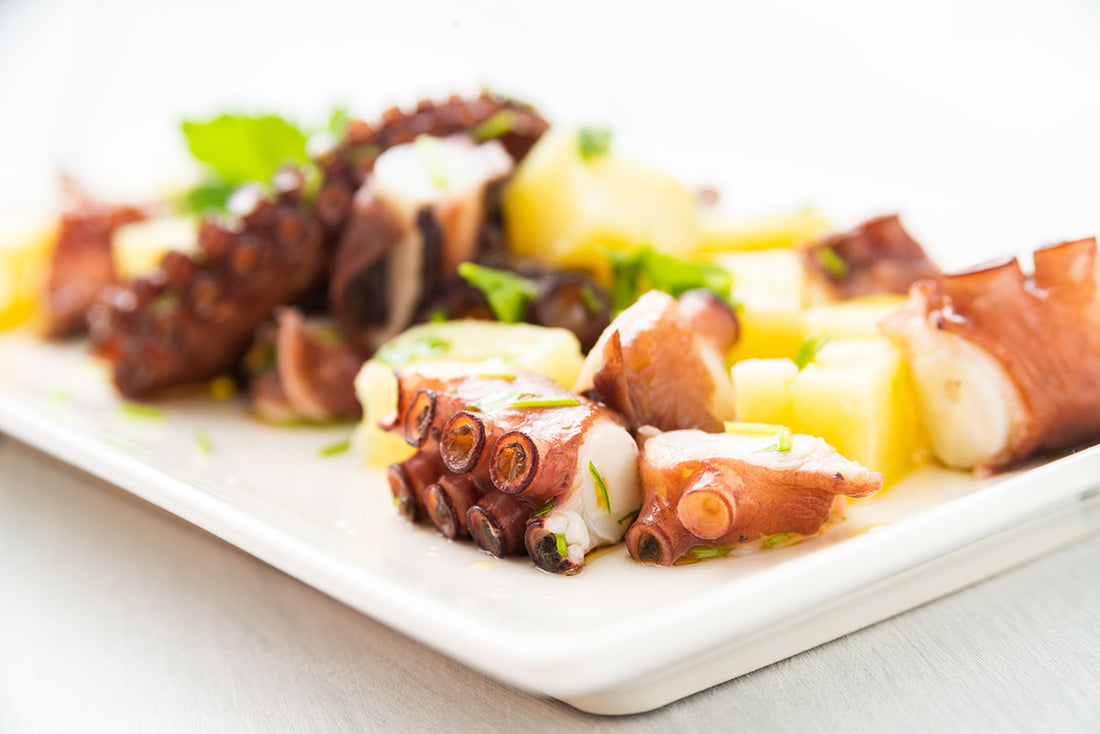 Brined and Smoked Octopus (Gluten-Free, Paleo)
Learn how to smoke perfect octopus so the meat is super tender.
PREP TIME

10 hours

COOK TIME

5 hours

TOTAL TIME

15 hours
Ingredients
5 pounds fresh octopus, cleaned
1 cup kosher salt
1-1/2 cups brown sugar or puremamaple syrup for paleo
1 quart filtered water (or more to fully cover the octopus)
Fresh lemon wedges for serving
Water
Lemon slices
Maple or apple wood chips
Instructions
Slice octopus into 6 oz portions.
Whisk salt, syrup, water. Brine octopus in bag or dish overnight.
Place racks on paper-towel lined counter.
Rinse octopus, pat dry. Pellicle forms 1-2 hrs.
Load smoker tray, water bowl. Preheat to 120°F.
Low smoke octopus 2 hrs, add chips, water.
Smoke at 150°F, 2 hrs. Add chips, water.
Cook at 175°F to 140°F internal temp.
Serve with lemon or vacuum seal when cool.
Nutrition Information: 
Amount Per Serving: 
CALORIES: 678 TOTAL FAT: 7g SATURATED FAT: 1g TRANS FAT: 0g UNSATURATED FAT: 3g CHOLESTEROL: 272mg SODIUM: 8900mg CARBOHYDRATES: 65g FIBER: 1g SUGAR: 48g PROTEIN: 85g